| | |
| --- | --- |
| Colour | medium-red, glossy |
| Comments | interesting early variety for direct marketing, we re­commend to seek special advice on cultivation to get the optimum growth, yield and fruit size |
– protected variety, Head Licence: Flevo Berry, NL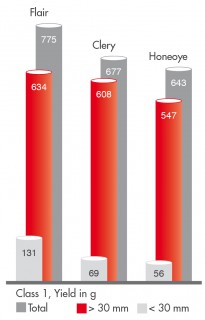 Flair, a breeding from Flevo Berry, ripens about 5 – 7 days before Honeoye. Additionally, the variety can be forced with covering or tunnel cultivation very easily.. Flair is more of an open plant with long inflorescences. Protection against blossom frost should be prepared! The harvesting process is very compact and larger quantities can be harvested very quickly. Flair is characterised by light-red, beautiful, glossy fruits. The taste is excellent. An early, sufficient water supply is very important. Otherwise the fruits will get too small in the course of the harvest.
Because Flair is rather slow-growing after planting, it should preferably be planted on good soils. A good planting date for Frigo plants is May/June, for fresh plants between 1st and 10th August. By doing this, the plant has enough development time for a good flower induction in autumn. It is very important that the plants are planted with a sufficient depth. Concerning planting distances we recommend 25 – 30 cm. After frigo planting without harvesting, the blossoms should preferably be broken out fast.
As an (A+) plant, Flair is also suitable for a 60-day culture. In this case, a sprinkling possibility is absolutely necessary.
Flair reacts with sensitivity to Herbizid treatments directly after planting. As soon as the plant has not taken root properly, the quantities of expenditure should be kept down (splitting). After planting, a preventive treatment against Phytophthora cactorum is recommendable.
The population should be sufficiently provided with nutrients and trace elements at any time of the growth. Especially a lack of zinc and manganese rapidly leads to a brightening of leaves. Flair shows similar symptoms at higher pH-values and lower soil temperatures. An early enough intraleaf fertilisation is therefore important. Special attention is needed in spring, when Flair starts very rapidly and is undersupplied just as rapidly.
Flair is qualified both for open-air growing and for ridge planting. Because Flair is an open planting type with long inflorescences, single ridge planting is to be preferred to double ridge planting.