| | |
| --- | --- |
| Colour | medium-red, glossy |
| Comments | good presentation in the punnet, robust plant |
– protected variety, Head Licence: Fresh Forward International B.V. Wageningen, NL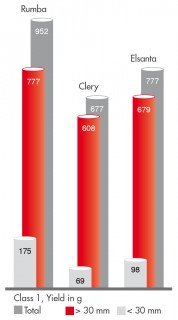 Rumba is an early cropping variety from the breeding programme of Fresh Forward. Rumba ripens about seven days before Sonata, and the season is considerably longer than that of Honeoye or Clery.
The variety produces medium-red fruits with an appealing gloss. The fruits are large, uniform and firm. They have a good shelf life and retain their gloss and shine even after cold storage. The flavour of the juicy fruits is good. Regular picking is important as the berries would otherwise get too dark.
For an earlier season start, Rumba can be grown under fleece and/or plastic film as well as in polytunnels. Yields are high thanks to the proper size and weight of the individual fruits. There are barely any crippled fruits.
The pedicels are not too long, so the blossoms are fairly well protected by the foliage against late frosts and heavy rain. Even so it is important to cover the plants with plastic film or fleece in spring to protect the flowers from night frosts.
Rumba is a very healthy, vigorous variety that has so far shown no particular susceptibility to specific diseases.
The breeders however recommend preventive treatment against Botrytis and Rhizoctonia.
35 cm has been proven the right spacing between the plants in a row. Two types of planting material can be used – frigo plants in spring or green plants early in August. Given the large size of the fruits, two-year cultivation is
pos­­­sible without any problems. How­ever, the plants must be protected against winter frosts in the second year, because the rhizomes will have grown up fairly high by that time.
Boron-containing fertilisers should be used sparingly, as the variety tends to uptake excessive amounts of this trace element. Apart from this Rumba is relatively easy to cultivate and without any special fertilisers.