| | |
| --- | --- |
| Colour | medium-red, glossy |
| Comments | very attractive fruit, great for supermarkets, susceptible to mildew and Phytophthora |
– protected variety, Head Licence: East Malling, GB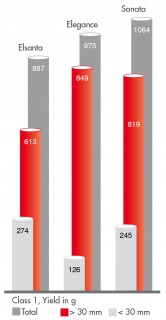 Elegance is a midium-season cropping variety from East Malling's breeding programme. It crops a bit later than Elsanta and has a long season. Elegance produces large, very uniform, medium-red fruits. There are almost no crippled fruits to speak of. The attractive gloss and the overall appearance of the fruits in the punnet are truly convincing. Yields are im­­pressive with a large percentage of Class 1 fruits. Its good shelf life makes Elegance an interesting variety for supermarkets, while it has to be ac­­cepted that the flavour is unexceptional and the aroma not very pronounced. Elegance is easy to pick and suitable for 60-day production.
The plants are healthy and feature an erect habit. The fruits are well displayed on long pedicels, which gives a high picking rate.
Cultivation is fairly easy as experience has shown so far. Where diseases are concerned, we have to mention the high susceptibility to mildew.
Elegance is a promising variety for supermarkets. The berries look great in the punnet.