| | |
| --- | --- |
| Colour | medium-red, very glossy |
| Comments | very attractive fruits, suitable for all marketing channels, susceptible to Xantho­monas, Phytoph­thora cactorum |
– protected variety, Head Licence: Meiosis, GB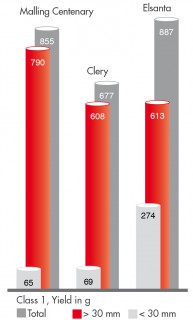 Malling Centenary is an early variety from the breeding program of East Malling (GB). The ripening time has varied within the last couple of years. While in the first year of planting the variety ripened just two day after Clery, the last several years have established a ripening time a few days before Elsanta. The variety can be covered to ripen 3 – 5 days after Clery. The harvest will be noticeably beyond Clery when planted earlier. In the open field production we had yields that were above those of Elsanta. In England Malling Centenary has good results in the 60 day production. Malling Centenary stands for a variety with unique fruits. The flavor of Malling Centenary is good to excellent with a nice strawberry aroma. The berries are of medium red, they will darken slightly when kept cool. They will then have a uniform red berry color which is slightly darker than Elsanta. Malling Centenary has a wonderful sheen to it; the berries are big and very, very uniform in size. We have harvested 98% of berries with class A! The firmness of the berries is very good. Our results for their shelf life is considerably above that of Elsanta.
These qualities of Malling Centenary are so convincing for us that we consider the risks minor. What are those risks? According to the experiences made so far the variety is not very resistant to diseases. They are susceptible for Xanthomonas and Phy­toph­thora Cactorum. The variety blossoms are a little bit above the leaves and has to be protected against frost. After initial negative reports about rain damage the variety is gaining popularity for open field production. Due to the perfect appearance and the good flavor, Malling Centenary can be used for all marketing channels.
Its real advantage, however, is definitely the tunnel production. The fruit quality and the harvest with this kind of cultivation is extraordinary. The harvest provides almost completely class A berries, with a high weight of the individual berries.
Malling Centenary is easy to pick with a high picking rate.
We consider Malling Centenary among the most promising varieties on the market. It has an interesting ripening time and a great flavor. In the punnet Malling Centenary is a class of its own.